Serstech
SERSTECH – Detect any solid or liquid chemical in seconds using Raman technology. The Serstech 100 indicator is easy to use, it is really hand-held and waterproof. The sample does not need to be removed from the container and will not be destroyed or distorted during the analysis. Universal solution: one device for all types of chemicals
No consumables, no factory calibration, no maintenance costs. Software and library updates included. Rechargeable battery for more than eight hours. Create libraries and add your own. Quick and easy to disinfect. Training takes a few hours.
Verified, enriched, and complete libraries
All libraries are designed or validated by our chemists using the Serstech 100 indicator. Each substance has the corresponding GHS symbols, CAS numbers and, in many cases, a comprehensive text explaining the properties of the substance. All information is easy to understand and provides instant feedback and decision support.
Explosives. Includes military and civilian explosives, improvised explosive devices, precursors, and oxidants.
Drugs: Narcotic and psychotropic substances on the UN Yellow and Green Lists, including precursors.
Hazardous chemicals. Contains over 2,000 toxic industrial chemicals and other toxic or hazardous materials.
Chemical toxins. Detection of corrosive, blood, nerve, and suffocating toxins and their precursors.
Medicines: A custom library developed for and with pharmaceutical companies.
The most cost-effective Raman solution
Management and reporting software included
Manage, expand, and name custom subjects using ChemDash software. Prepare reports and export measurements for further analysis. Manage user accounts and set user privileges to secure the certificate chain. Use on a desktop or cloud.
Lightweight, safe, and easy to use
The Serstech 100 indicator makes their daily work safer, easier and more efficient:
■ Police ■ Bomb teams ■ Border controls ■ Dangerous goods teams
■ Fire ■ CBRN preparedness teams ■ Detention facilities
■ Pharmaceutical companies ■ Environmental authorities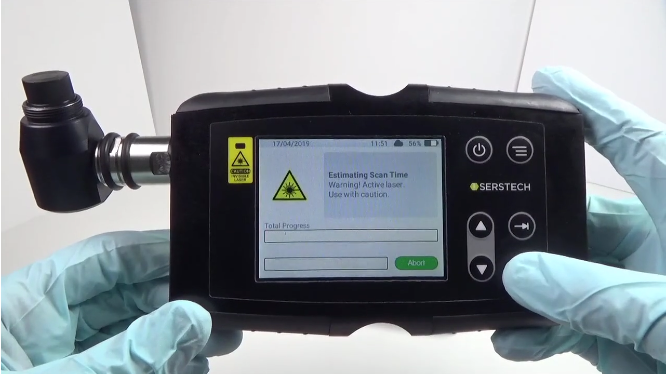 + IP67 and easy to disinfect
+ User interface intended for use while wearing protective equipment
+ Detect virtually any chemical in seconds
+ Intuitive colors and symbols, everyone can use
+ Durable and reliable in all conditions
Type of instrument – Raman hand-held spectrometer
Laser wavelength – 785 nm
Laser output power – Available in 3 levels, max. 300 mW
Max Spectrum range – 400cm-1 to 2300cm-1
Spectral resolution – 8-10cm-1
Detector type – Linear CCD array
Display – 3.5 ″ TFT color display with LED backlight
Memory – 100,000 measurements (16GB)
Data formats Text – .txt, .csv, .jcamp
Connectivity – USB 2.0. WiFi and Ethernet (optional)
Battery – Rechargeable. More than 8 hours for normal use. Can be extended with a standard mobile battery bank.
Weight – 650g (1.4lb)
Dimensions – 15.8 cm x 10.1 cm x 2.9 cm (6.2 x 4.0 x 1.1 cm)
Operating temperature – -20 ° C to + 50 ° C
Storage temperature – -30 ° C to + 50 ° C
Included accessories
Point-and-click adapter, vial holder, 90 ° angle adapter, waterproof case, shoulder strap, USB cable, laser hole cap with calibration mark, sample vials, attachment point, AC adapter for 5 VDC / 1 A USB charging
Optional accessories – Ethernet and WiFi connection kit
Start time – Less than 20s
Collection – Automatic or manual collection, 0.001-60 seconds
Libraries – The total number of substances is over 14,000 and the accompanying libraries are Explosives , including precursors; Drugs , including additives, masking agents, and precursors; Chemical toxins , including simulants; Dangerous substances , including industrial chemicals and Medicines with a large number of active pharmaceutical ingredients
Warranty – 1 year. Optional additional warranty
Average downtime – 50,000h
Relative humidity – 5-90%
Fasteners – CE, IEC 60529 IP67, MIL-STD-810G 514.6 (vibration), MIL-STD-810G 516.6 (impact resistance)
Supported languages ​​ – Chinese, Danish, English, French, German, Indonesian, Italian, Japanese, Korean, Polish, Russian, Spanish, Swedish, and Turkish
Software – ChemDash
Types of substances – Solids, liquids, powders and tablets
Analyze mixture – Yes
Delay function n – Yes, 1 second to 15 minutes
Advanced – User authorization, event logging, scan time delay, user-defined libraries, user-added items
No products were found matching your selection.